YIPPEE Weekend Warriors
Now, with more Gas and more Power!
That's right, folks. More Gas! More Power!
OK. So, more Gas (of many origins) is not exactly cause for pride.
What the heck are we going on about, then?
Well, we're still offering the opportunity to play with power tools in a beautiful setting. Only, this time there will be more gas-powered tools involved. That's right. Same beautiful setting. Same delicious food. Same feel-good deeds. But now, you have the chance to flex your muscles lugging cement and operating Bigger Power Tools!
(Of course, we appreciate all help, regardless of whether it is for this particular task.)
This specific job we're writing to coordinate is for two people to assist Chris with the Welcome Center footings, in one weekend.
The WC footings will be easier to crank out: the area is flat, is not expected to involve a ledge, and furthermore, we plan on renting power equipment to help dig holes and mix cement. But, Chris cannot work on this himself and Cassandra definitely cannot participate on this. We think a total of three people, including Chris, would be good. It should take about two days to do.
The only day we definitely cannot schedule is 9/9/05, since Chris has to work that Friday. We do have one Team member scheduled for Saturday 8/27/05, and one Team member scheduled for an entire weekend, 9/16/05-9/18/05. Any time you can participate will be helpful. For this particular job, we just need to coordinate for two people being here the same weekend, in enough advance notice to also schedule the rental equipment.
So, please give us a call or email to schedule. Thanks!
Now, to give you a glimpse at the current on-site status...
July's main YIPPEE newsletter and pics should be posted soon. In the meantime, here's a peek at what the MLA site looked like on 7/31/05: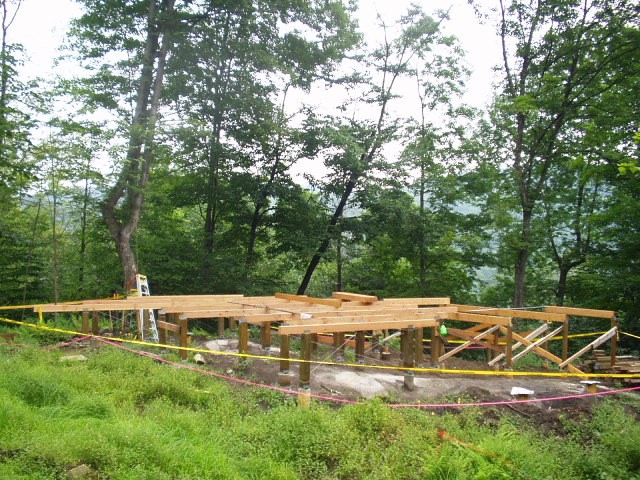 31 July 2005 30' yurt and deck structures in progress
Although footing and post construction is going signifigantly slower than anticipated, the platform/deck at the MLA site is finally starting to take shape.
Things have progressed even further in August. We just finished a weekend of on-site help from Team YIPPEEs JudyMom and Greg, on Friday and Saturday. Thanks guys!
Team YIPPEE overnight accomodations were never promised to be luxurious. But, we now offer a new, queen size air mattress with pseudo boxspring. Apparently its quite comfy!
The septic installer expects to finish his main work this week. The springs and boiler may take a little more effort.
We still don't know when we can attempt a trip over with Cassandra.
We do hope you can help. If you know anyone else who is not on the Team list but might like to be, please let us know or have that person contact us.
Thanks for your consideration.
Yippee!